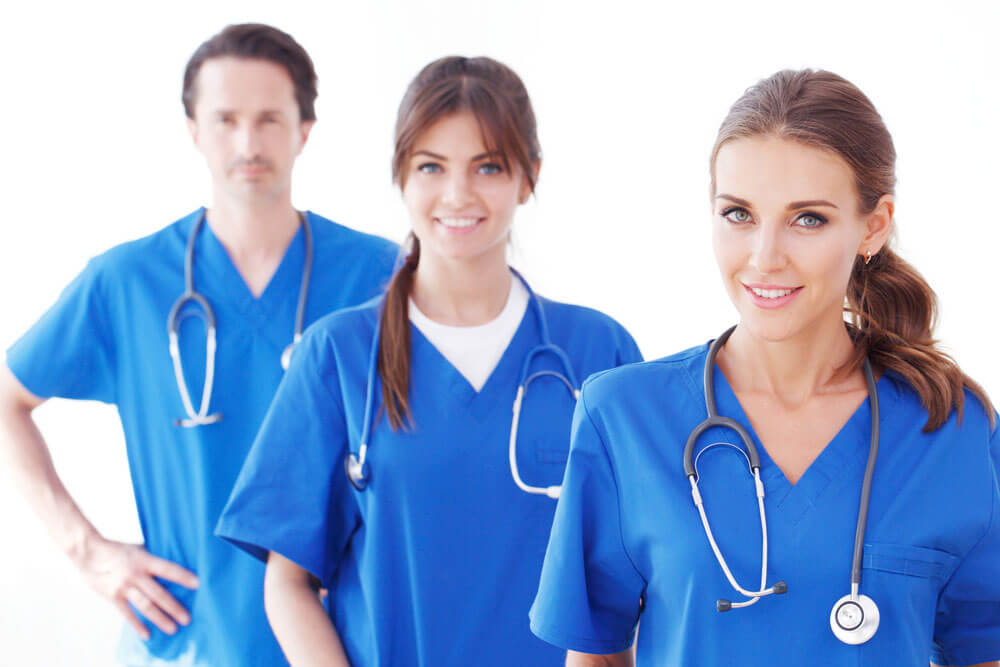 Becoming a Certified Nursing Assistant (CNA) is sometimes the first step in a nursing career. While some people elect to remain CNAs throughout their careers, others opt to progress into more advanced nursing-related professions. Additional training and education are needed to do so; you don't necessarily have to start from square one.
If you are already a CNA, enrolling in and completing a bridge program is an excellent way to move up the ladder more quickly and affordably. Such programs are designed with working professionals in mind, so you can continue working as a CNA while working toward your associate or bachelor's degree in nursing.
As the name implies, a bridge program is one that essentially bridges the gap between the knowledge that's needed to be a CNA and the knowledge that's needed for a more advanced nursing-related position. They're popular primarily because they allow you to apply credits that you've earned through previous training to your current program, so you can often complete your training more quickly and for lesser money.
CNA bridge programs allow you to progress more quickly in your nursing career while holding down a full-time job. Such programs are usually offered at least partially online, so you have greater flexibility. If the idea of eventually becoming an RN seems far too daunting, working your way up through a series of bridge programs may be a viable alternative.
CNA to LPN Bridge Programs
For many, the next logical step after becoming a CNA is to become an LPN, or licensed practical nurse. The gap between training for the two professions is relatively small, so many CNAs progress to become LPNs at some point.
Rather than starting all over again by completing a full LPN training program, you could complete a CNA to LPN bridge program and achieve your goal with less time and money. An LPN is essentially a stepping stone on the road to becoming a registered nurse, or RN. While many CNAs opt to complete CNA to RN programs, others prefer to work their way up more gradually due to time or money constraints. CNA to LPN bridge programs are the optimal way to do so.
So, is it worth it to progress from being a CNA to being an LPN? Most people would say so. As an LPN, you will have more responsibility. You will also have more authority, as you will no longer work beneath LPNs and may even be put in charge of CNAs. You will enjoy higher pay too.
According to the Bureau of Labor Statistics, or BLS, the median yearly salary for a CNA is $29,640, while the median yearly salary for an LPN is $47,480.
Upon completing your CNA to LPN bridge program, you will have to take and pass the NCLEX-PN to be eligible to work as an LPN. [Read More…]
CNA to RN - Associate Degree
People become registered nurses, or RNs, by earning either an associate degree in nursing (ADN) or a bachelor's of science in nursing (BSN). The ADN route is faster, as it can typically be completed in two years or less. Through a CNA to RN bridge program, you can get there even more quickly.
CNA to RN programs are offered by community colleges, universities, trade schools and vocational schools. The main advantage is that your previous training, education, and work experience are taken into account, so you really hit the ground running on earning your ADN. Such programs can typically be completed in as little as 12 months. Upon completion, you must take and pass the NCLEX-RN exam. [Read More…]
CNA to BSN Bridge Programs
While earning an ADN is a fast way to become an RN, you should consider your long-term goals before pursuing this path. If you think you may eventually want to earn your master's degree in nursing in order to pursue administrative positions and the like, earning your bachelor's of science in nursing, or BSN, is probably the better way to go.
Typically, it takes four years to earn a BSN. However, as a CNA, some of your training, education, and experience can be applied to a CNA to BSN bridge program, so you can get there faster. Depending on which program you choose, you may be able to reduce the time that it takes to earn your BSN from four years to just 21 to 24 months. [Read More…]
If you are already a CNA, you are part of the way there, so explore CNA bridge programs today.